How Can We Help?
We can arrange to have a custom bouquet of fresh-cut flowers or a dozen lovely roses, decadent chocolates or a sparkling beverage of your choice waiting for you in your room. In room massages can be scheduled or we can book an appointment at a local spa. We would also be happy to make recommendations for dinner plans and make your dinner reservations.
If there is anything we can do to make your experience in Asheville more memorable, please do not hesitate to ask.
Biltmore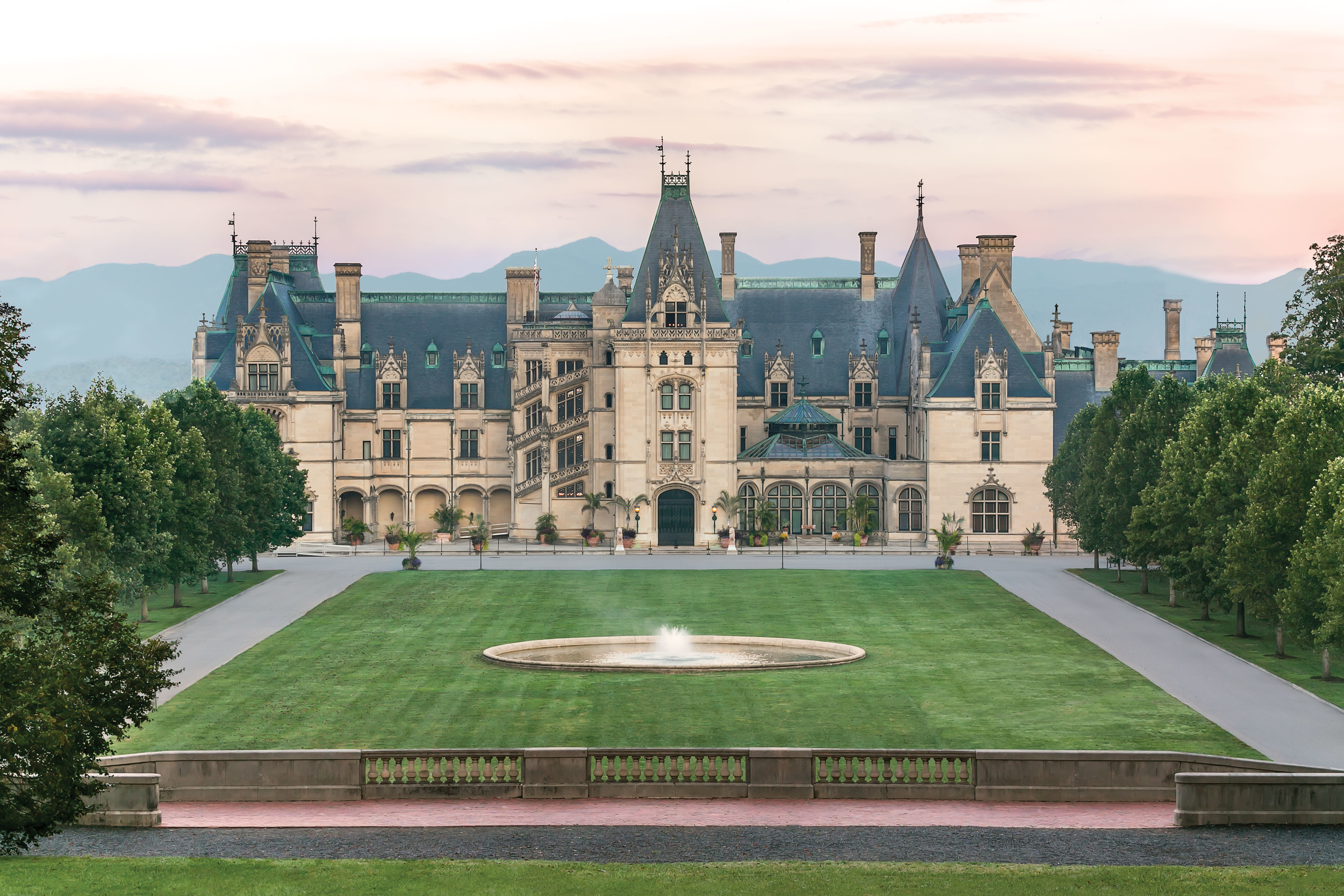 3 Nights is Just the Ticket!
Pinecrest B&B offers their guests Biltmore Estate tickets good for 2 consecutive days for $65 plus tax. Book our most spacious room, the Wible Suite, for 3 nights, purchase 1 Biltmore ticket from us and we will give you a second complimentary ticket. Offer valid for stays in the Wible Suite completed by May 2, 2019, can not be combined with any other offer, and only by phoning the inn at 828.281.4275. Subject to availability.
Mother-Daughter Getaway Deal!
Spend time together in Asheville and visit Biltmore's newest exhibit A Vanderbilt House Party, with costumes recreated from actual photographs from the early 1900s. Package includes accommodations for 2 people (age 12 and up please) for 2 nights in our Cowley Room with antique twin beds and 2-day tickets to Biltmore. Includes all the amenities at Pinecrest plus 10% off room rates valid for nights March 21-May 27, 2019 only. Select Special Rates and use coupon code:
SPRINGMOM for dates Mar 21-May 27 (Biltmore price $65/each)
for an exclusive package price or phone us at 828.281.4275 for personal service.
Biltmore 2 Days for the Price of 1 Deal
Pinecrest Bed & Breakfast offers a 2-day admission ticket regular season for $65/person plus tax. Advance notice is necessary, so please inquire at the time of booking. Our tickets are not date specific and can be used any two consecutive days during your stay. Your admission includes a self-guided visit of the breathtaking Biltmore House & Gardens, Antler Hill Village, and a guided tour and complimentary tasting at the Winery.
Biltmore House Reservation Days:
Starting July 1, 2019, all visits to Biltmore House will require a timed reservation.
Reservations are required for your self-guided visit of Biltmore House on these high volume days. We recommend you reserve your entry time online or over the phone since these days can sell out. If you arrive without a reservation, please proceed to Guest Services outside of Biltmore House after scanning your ticket(s) to receive a reservation time.
Your reservation time is for entering Biltmore House. Your admission gives you access to the rest of the estate during normal hours of operation. Arrive early and enjoy everything Biltmore has to offer!
2019 Reservation Days:
January 1, 5-6, 12-13, 19-20, 26-27
February 2-3, 9-10, 16-17, 23-24
March 1-17, 23-24, 30-31
April 6-7, 13-21, 27-28
May 4-5, 11-12, 18-19, 25-26
June 1, 8, 15-16, 22, 29-30
2 Girls Making Memories
Take Home a Silk Scarf!
Admit you need a girl friend's getaway this summer. Call your sister, mom or that one-of-a-kind best friend. Celebrate your friendship with a vacation to Pinecrest B&B in Asheville NC. Perfect accommodations await in our Cowley Room with antique twin beds, matching vanity, and comfortable seating area. The bathroom boasts a clawfoot tub for soaking and ample shelves to hold all your essentials.
Relax and rejuvenate at Wake Foot Sanctuary with a 45-minute foot soak that includes tea and a warm neck roll. Choose from 10 different soaks like Lavender-Chamomile, Tea Tree & Mint or The Melt with ginger and shea butter.
Make lasting memories by attending a marbling workshop at Majik Studios in the River Arts District. Float paint on a thick gel to create a one-of-a-kind souvenir scarf. The workshop is offered on Mondays at 10 am or Fridays at 1 pm (please inquire regarding other times for workshop based on instructor availability.)
Guests booking this package receive a 10% discount off our best rates in the Cowley Room plus $20 off workshops at Majik Studios included in rate shown.
Includes all the amenities at Pinecrest with breakfast each morning, fresh baked cookies, and beverage center on our sun porch. Two day Biltmore tickets can be added to your reservation too!
Dates available from May 28-Sept 30, 2019, in Cowley Room. Offer available on our website or by phoning 828.281.4275. Appointments at Majik Studios and Wake Foot Sanctuary must be made at the time of booking and are subject to availability.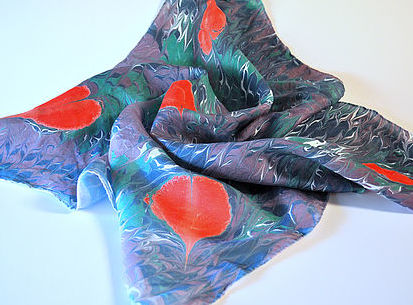 Gift Certificates
A Gift Certificate from Pinecrest Bed and Breakfast is a great idea for Holiday gift giving, anniversary, honeymoon, birthday or any other special occasion.
Gift Certificates available in any denomination on our secure website here: Online Gift Certificates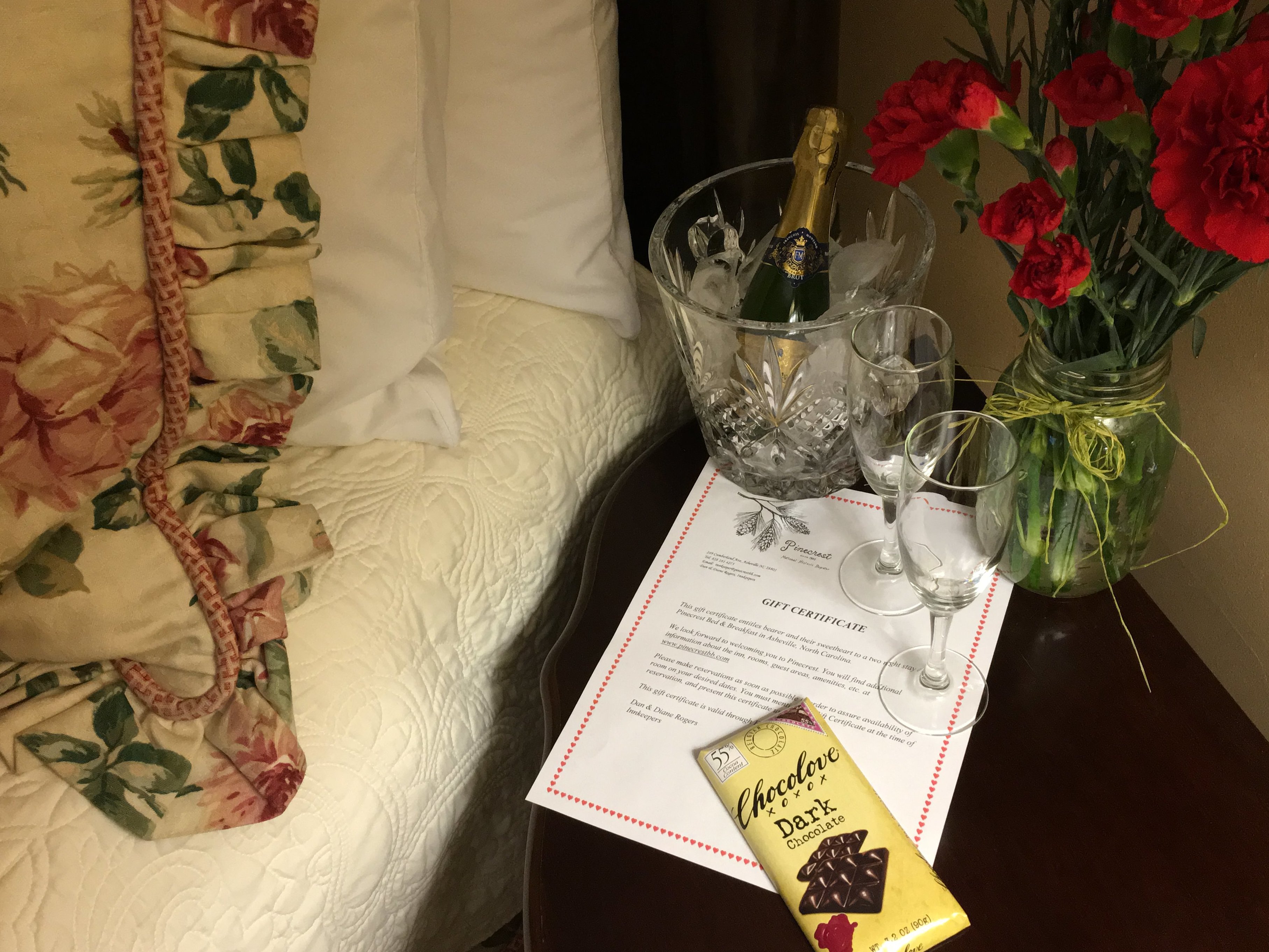 Cookbook
Morning in the Mountains!
When the Asheville Bed & Breakfast Association innkeepers get together, you never know what they might cook up. In 2016, as innkeepers discussed what made the bed and breakfast experience special, a delicious idea emerged.
The group explored what prompted guests to make a return visit. They took a look at what distinguished them from beloved area hotels or short-term rentals offered by strangers. Unanimously, the answer came back: BREAKFAST.
An intrepid group of innkeepers carefully gathered the best recipes from our inns. The cookbook, Morning In The Mountains is the resulting labor of love.
While the book's focus is breakfast, you'll also receive the best recipes for appetizers, sweet bites and our best homemade cookies. Morning In The Mountains is organized by chapters:
Fruit: Seasonal fruit courses versatile enough to serve as breakfast starters or salads, hors d'oeuvres and light meal endings
Savory: Quiche, overnight stratas, baked egg ramekins, casseroles, shrimp and grits and more
On The Side: Side dishes, sauces, conserves, condiments and bite-size appetizers
Baked & Griddled: Inventive quick breads, baked French toast, pancakes and crispy waffles
Sweet: Homemade cookies for after a hike, a sweet bite left on a guest pillow, an elegant torte following a morning meal
Includes 6 recipes from Pinecrest Bed & Breakfast. Available for $25 including shipping & handling in continental US only. Ships via book rate; normal delivery is 7-10 days.
Available by phoning the inn at 828-281-4275.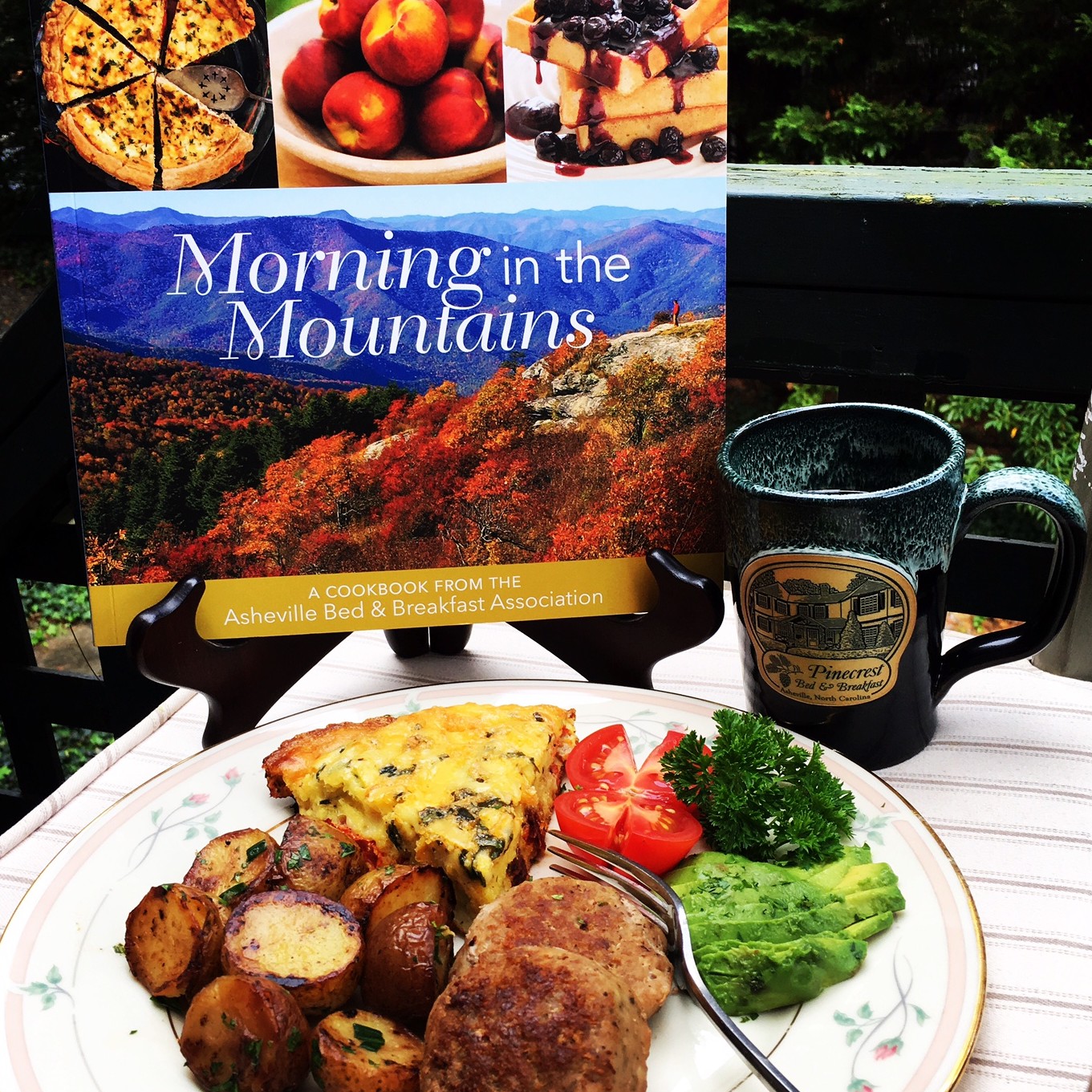 Keep Romance Alive
Romance never went out of style here at our bed & breakfast!
Variety of packages available during online check out include:
Anniversary Special
Book a two night reservation for you and that special someone and we will include a complimentary split of "bubbles" upon arrival. Book online and include "Anniversary" under Special Accommodations.

Roses
Say "I Love You" with one dozen artfully arranged roses waiting your arrival.
INN Love Package
Pack your bags and we'll take care of the romance. Waiting for you will be:
Love You More Package
Surprise your special someone all the trimmings and let them know you are still in love: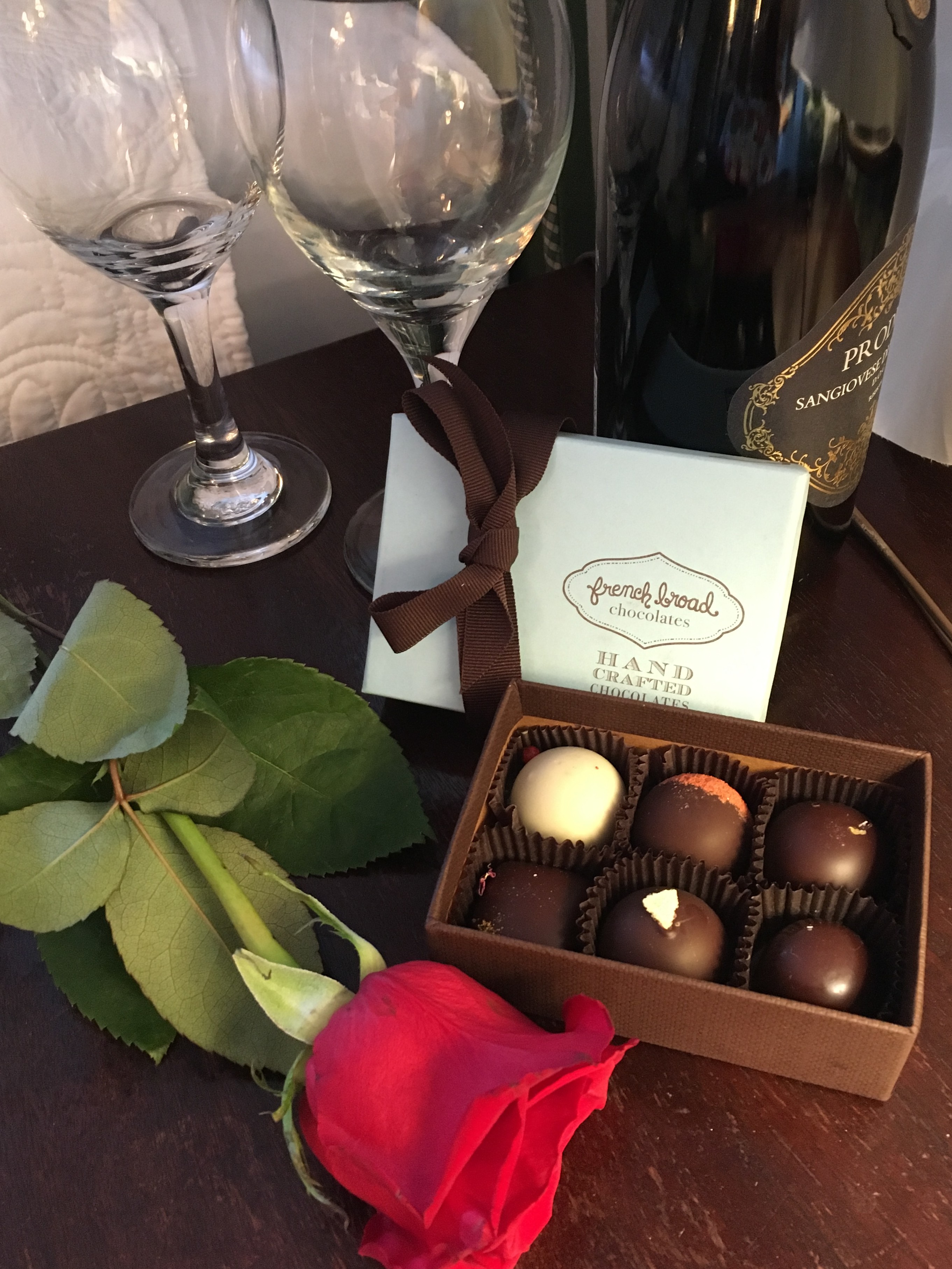 Babymoon
Perfect for parents-to-be
Strengthen your bond and take a well deserved break before your little one arrives with a dreamy Babymoon Package at Pinecrest. Upgrade available at check out for $50 includes:
Onesie (0-3 mo) from Asheville's Spiritex Orangic sustainable, ethical textiles
Assorted truffles from Asheville Chocolate (4 pack)
Sparkling cider split
Healthy snacks for the mother-to-be
Need more pampering? Around Town Massage offers in-room massages right here at Pinecrest.
60 Min Mother-to-be $100
60 Min Couples Massage $200 (Only the Thomas Wolfe and Wible Suite are large enough to accommodate two.)
For massage arrangements please contact Thalia Morris directly at 828-713-8845.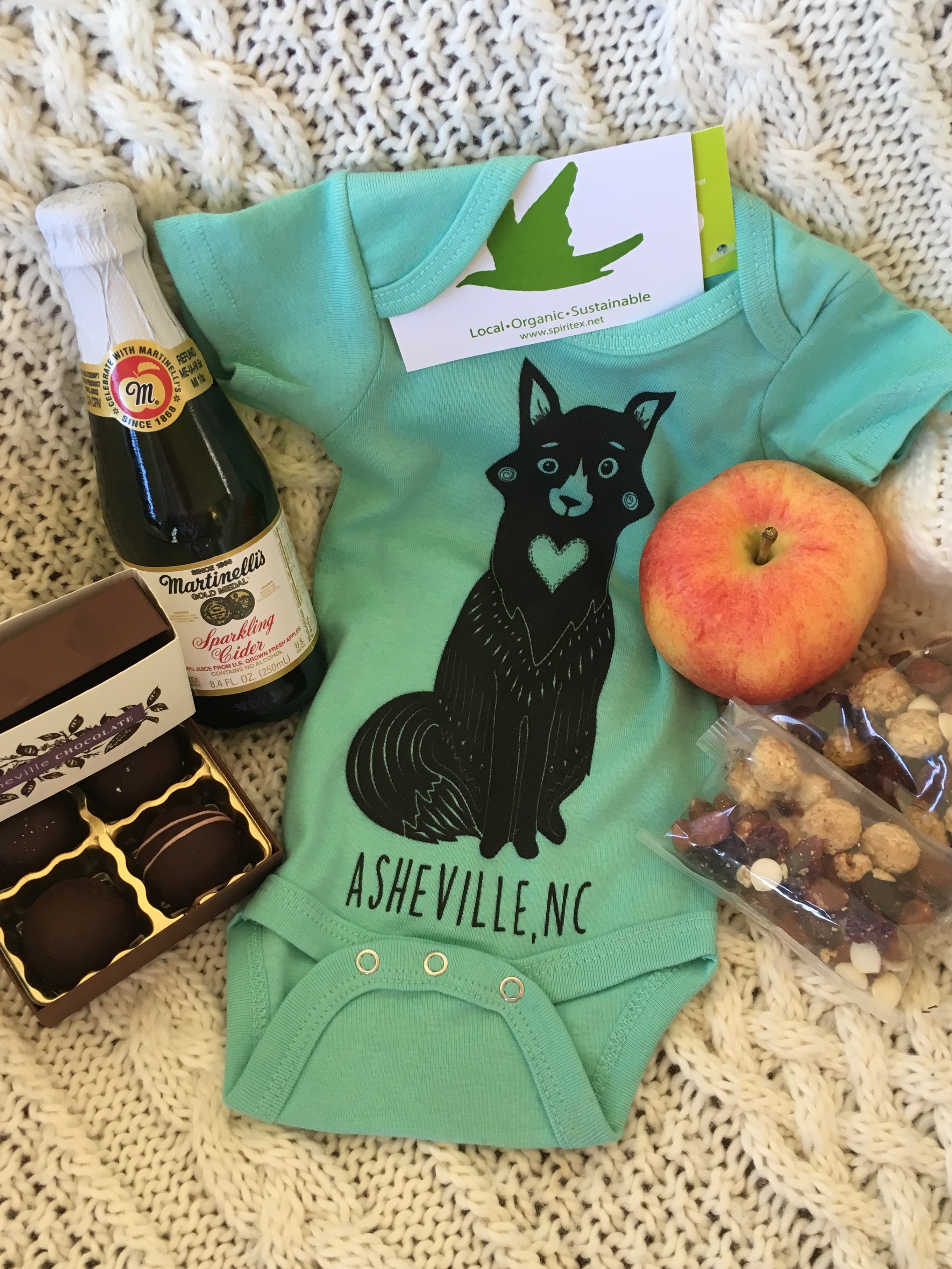 Loyalty Discount
Welcome back!
We love return guests here at Pinecrest Bed & Breakfast. Come back for another visit and receive 10% off all future reservations made via website or phone. Discount is applied at checkout. Excludes reservations made through OTAs ie, Expedia, Hotels.com, etc.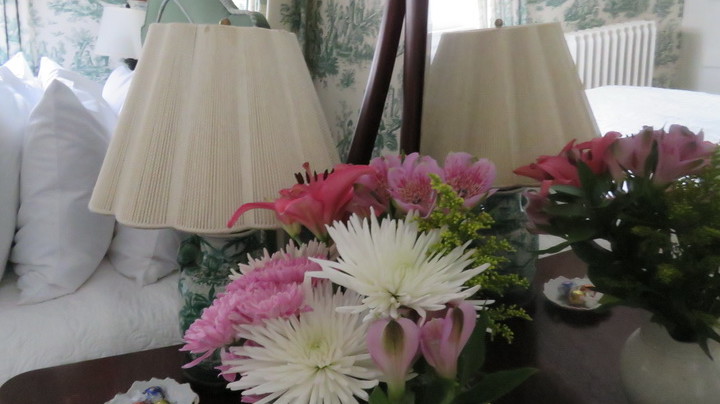 Massage
Around Town Massage Comes to You!
Massage
Enjoy a relaxing massage in the comfort and privacy of your room. We recommend Thalia Morris of Around Town Massage. Thalia is a licensed massage therapist with over 18 years of experience. Right away you will know the difference between a generic rub and her skillful, nurturing touch. Her integrative blend of Swedish massage techniques with other modalities deeply relaxes the mind and body.
60 minute $100 90 minute $145
Have you ever had a couple's massage? Two therapists with tables, linens, oils and music provide you and that special someone with the massage of your dreams. Only the Thomas Wolfe and Wible Suites are large enough to accommodate couple's massage.
60 minute $200 / 90 minute $290
60 minute Babymoon $200 for both of you before that little one arrives.

For arrangements please contact Thalia directly at 828-713-8845.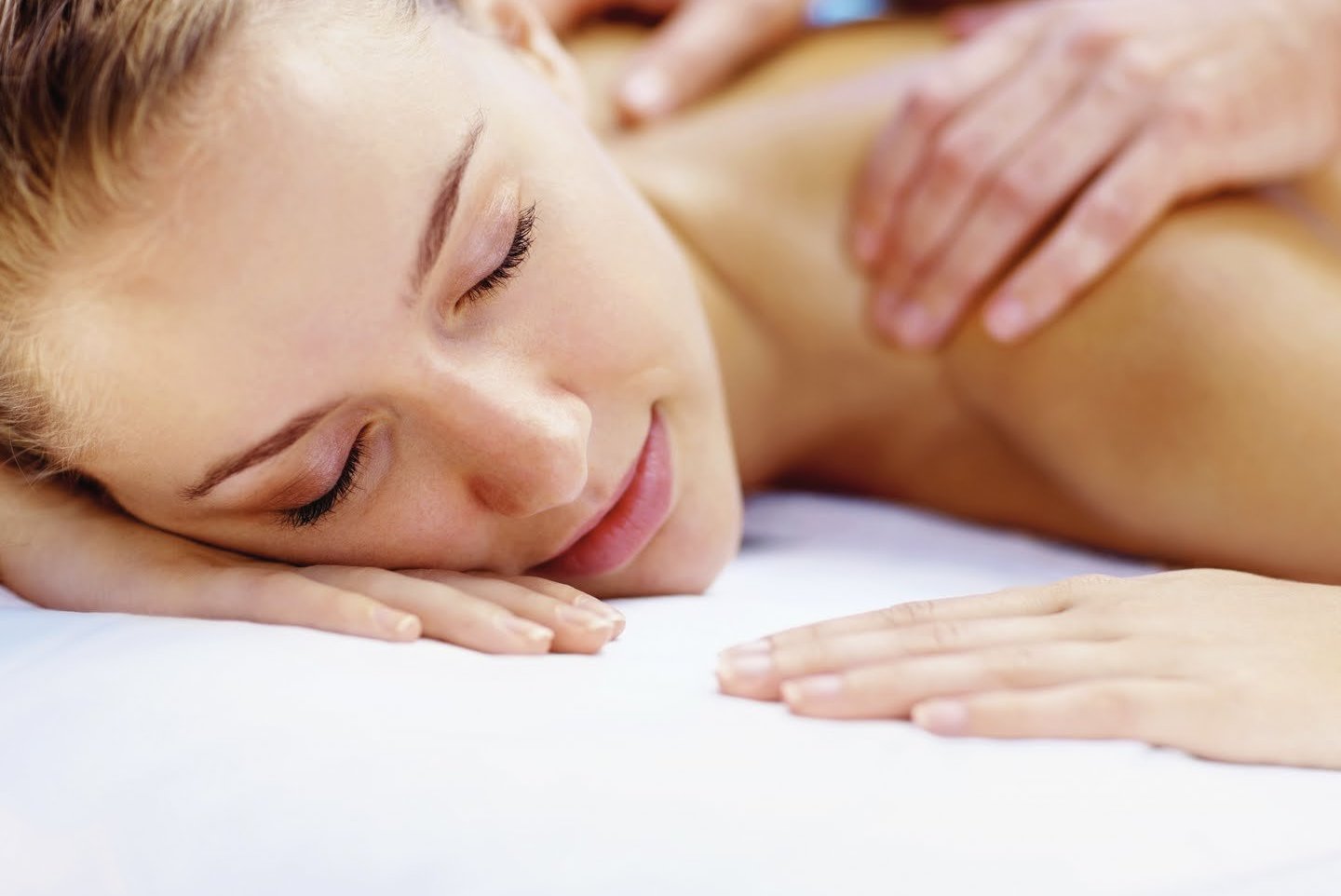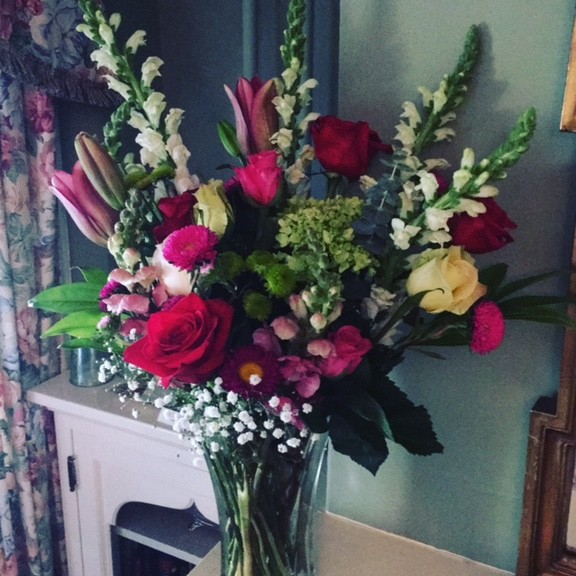 Golf
Play a Round at the Grove Park Inn
This course, designed by the legendary Donald Ross, is rated as one of the best in North Carolina. We are able to offer our guests discounted rates including green fees, carts, and even rental clubs.

In Season (April 1 - Oct 31)
$70 Sunday - Thursday
$90 Friday & Saturday
$55 Twilight, any day after 3 pm
Off Season (Nov 1 - Mar 31)
$45 Any day
When booking, please contact the innkeepers for more details as guests must book tee times through Pinecrest B&B for these rates!