Asheville is in the heart of the Blue Ridge Mountains and is a mecca for outdoor enthusiasts. Guests of Pinecrest B&B can take advantage of hikes like Catawba Falls or drives up the Blue Ridge Parkway to Mount Mitchell. Perhaps it's time to leave the ground behind and fly with a zip line tour at Navitat Asheville.
Located in Barnardsville, Navitat is just 20 miles north of our bed & breakfast. They offer 3 distinct experiences so there is something for everyone. Plan to spend 2 to 2.5 hours on one of the nation's finest zip line adventures!
Innkeeper Dan's favorite is the Mountaintop Tour which is a side by side dual zip line so it offers a way to compete and be the first to arrive at the end of the line! Three different runs exist 1100 feet long, 2300 feet, and 3600 feet long—that's half a mile long with speeds up to 65 MPH. These are some of the highest, fastest, and longest zip lines in the world fully integrated into a spectacular natural setting.
Navitat also offers the Treetop Tour which incorporates multiple zip lines of shorter distance with three scenic forest trails. You can cross bridges, scale a spiral tree staircase, and rappel to the forest floor on this tour.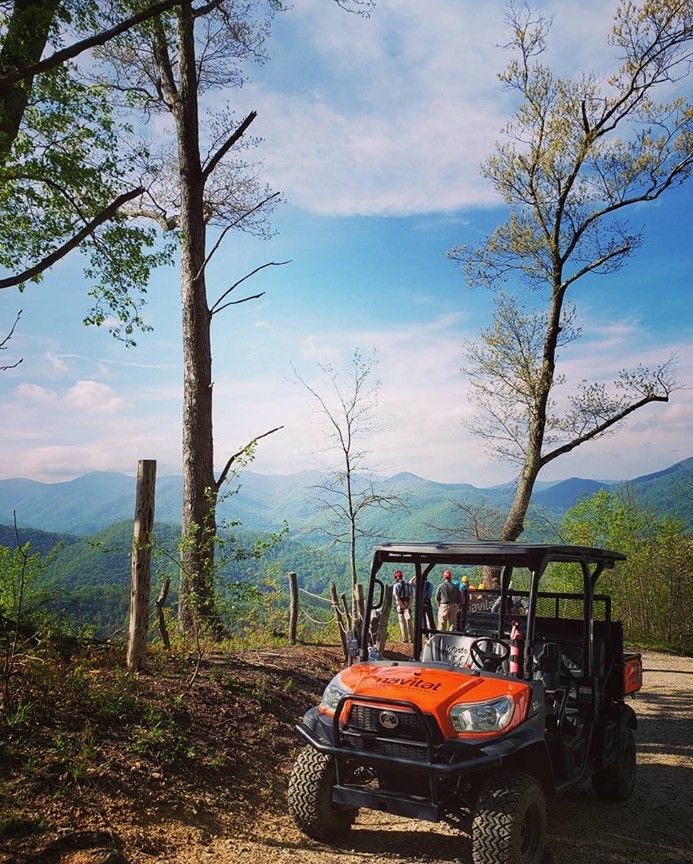 Heights aren't for everyone, so Navitat has added Guided RTV Excursions. Buckle up and let your Adventure Guide drive a rugged terrain vehicle to breathtaking views without ever leaving the ground. This tour is perfect for young or old and you might get lucky and see your ziplining family members flying high.
All the details and FAQs are available online at Navitat.com but here are a few things to know:
Tours run rain or shine and are only canceled for lightening and high sustained winds. We have zipped on both a sunny day and a rainy day. A rain jacket came in handy. Rain hitting your face at 65 mph feels like pellets and can knock your contacts out of your eyes.
Wear closed toed shoes for all adventures at Navitat.
The guides are well informed and offer many tidbits of knowledge of the area and specifics of the beautiful location. Safety is stressed and reinforced. Hands-free braking is the best!
The engineer knows that force = mass x acceleration. The smaller person on the dual zip line has to curl up into a ball to reduce drag. Then you might catch up with the larger person and win. Either way, don't forget to enjoy the view!
Reservations are always required since tours are limited to 8 people and 2 guides. Popular times on weekends May through August sell out as well as tours in October and November leaf season. Book early!
Your adventure awaits in Asheville and our b&b is the perfect place to stay while exploring all the area has to offer. Our spacious rooms, indulgent breakfasts, and superb location are all waiting for you to book direct.