We serve a hearty breakfast at Pinecrest Bed & Breakfast so you will be ready to start your day full of adventures in Asheville. With its location in the heart of the Blue Ridge Mountains, fall color season can extend from late September into early November depending on the weather. Numerous peaks at 6,000 feet elevation turn first then the color proceeds down the mountainsides into the valleys, making our region one of the longest autumn color seasons.
Pinecrest offers our guests the opportunity to upgrade their stay with a hiking backpack picnic ready for pickup after breakfast complete with red checked picnic blanket. Lunch includes Italian pressed sandwiches, potato chips from local Gourmet Chip Company, fruit, and bottled water for 2 all made fresh. This itinerary takes you through plenty of elevation change with optional hikes so no matter when you come in autumn, there will be color somewhere!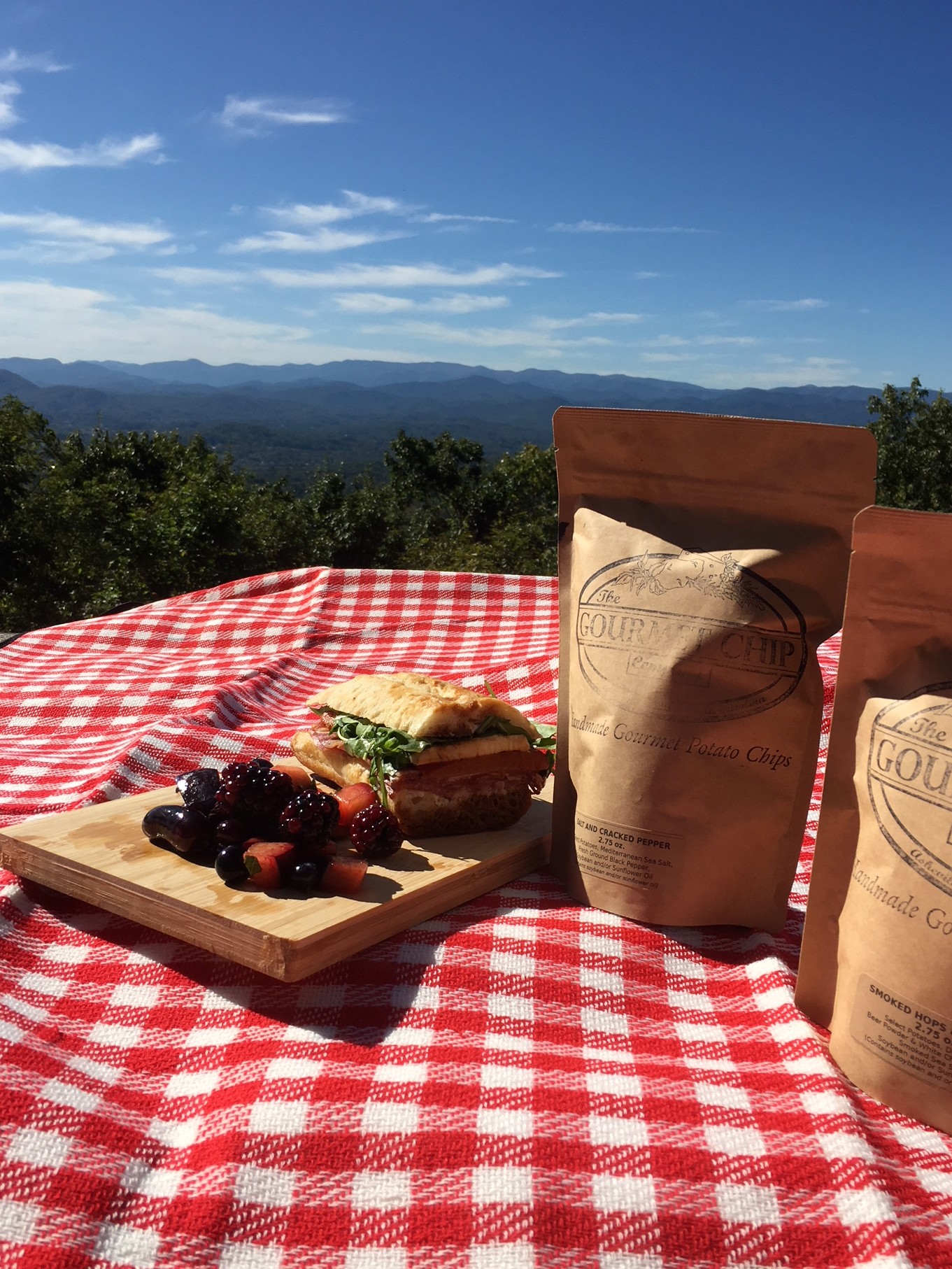 Head south to pick up the Blue Ridge Parkway toward Mount Pisgah, a 25 mile drive with overlooks and tunnels, too numerous to count. At MP 407.6, there is a strenuous 1.5 mile hike, one way to the summit of Mount Pisgah (elevation 5,721 feet) or keep going one more mile to the parking area at Pisgah Inn (MP 408.6) which offers panoramic views from the large observation deck, accessible to all and restrooms are available.
Or opt to hike at Fryingpan Mountain Lookout Tower (MP 409.6.) Although still strenuous, the hike is just 1.5 miles round trip and offers even better views than Mount Pisgah with half the work! Park at the entrance to Forest Service Road 450 which is closed; walk around the gate and follow the gravel road to the summit. No longer operational, the tower was built in 1941 by the Forest Service and served as a lookout for fires until the 1990s. Climb the 5 flights of stairs (elevation 5,340 feet) for even better views, though beware those fearful of heights.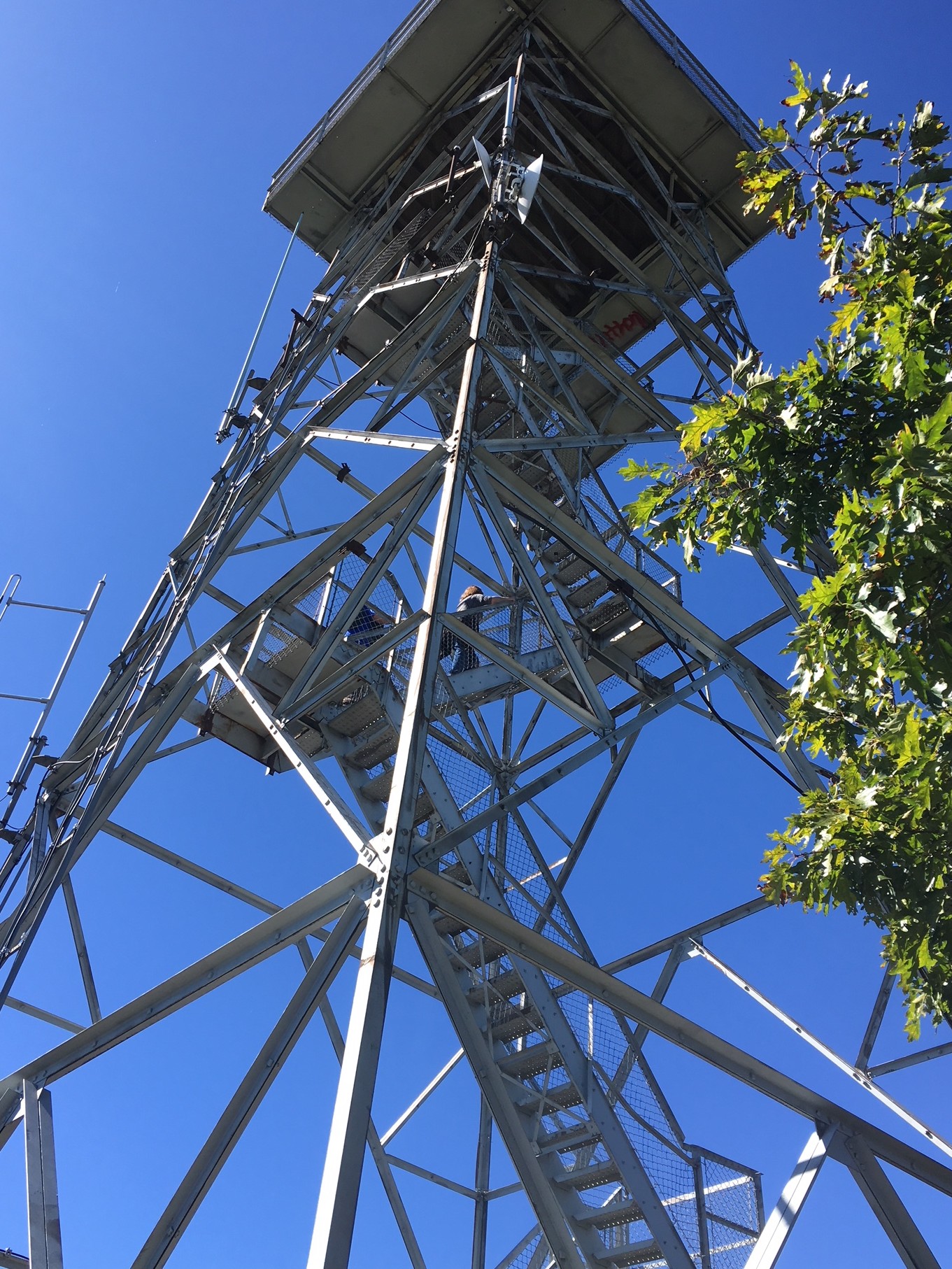 Traveling south for 2 more miles, leave the Blue Ridge Parkway for US 276-South and choose your own adventure from the following stops (mileage from Fryingpan Mountain):
5.6 miles: Pink Beds Picnic Area (elevation 3,150 ft.). There is a 5-mile loop trail over a highland bog with little elevation change. The picnic area has 21 tables.
10.3 miles: Moore Cove Falls. Look for a bridge and pull off to the left. This ¾ mile one-way hike is fairly flat and leads to a 50 foot waterfall that you can walk behind.
11.3 miles: Looking Glass Falls (elevation 2,300 ft.) This 60 ft waterfall is easily accessible with roadside parking and steps that lead down for a closer view.
12.1 miles: Coon Tree Picnic Area. This spot has 10 picnic tables, river access, flush toilets, and drinking water. There is a moderate 3.7 mile loop hike, recommended direction is clockwise.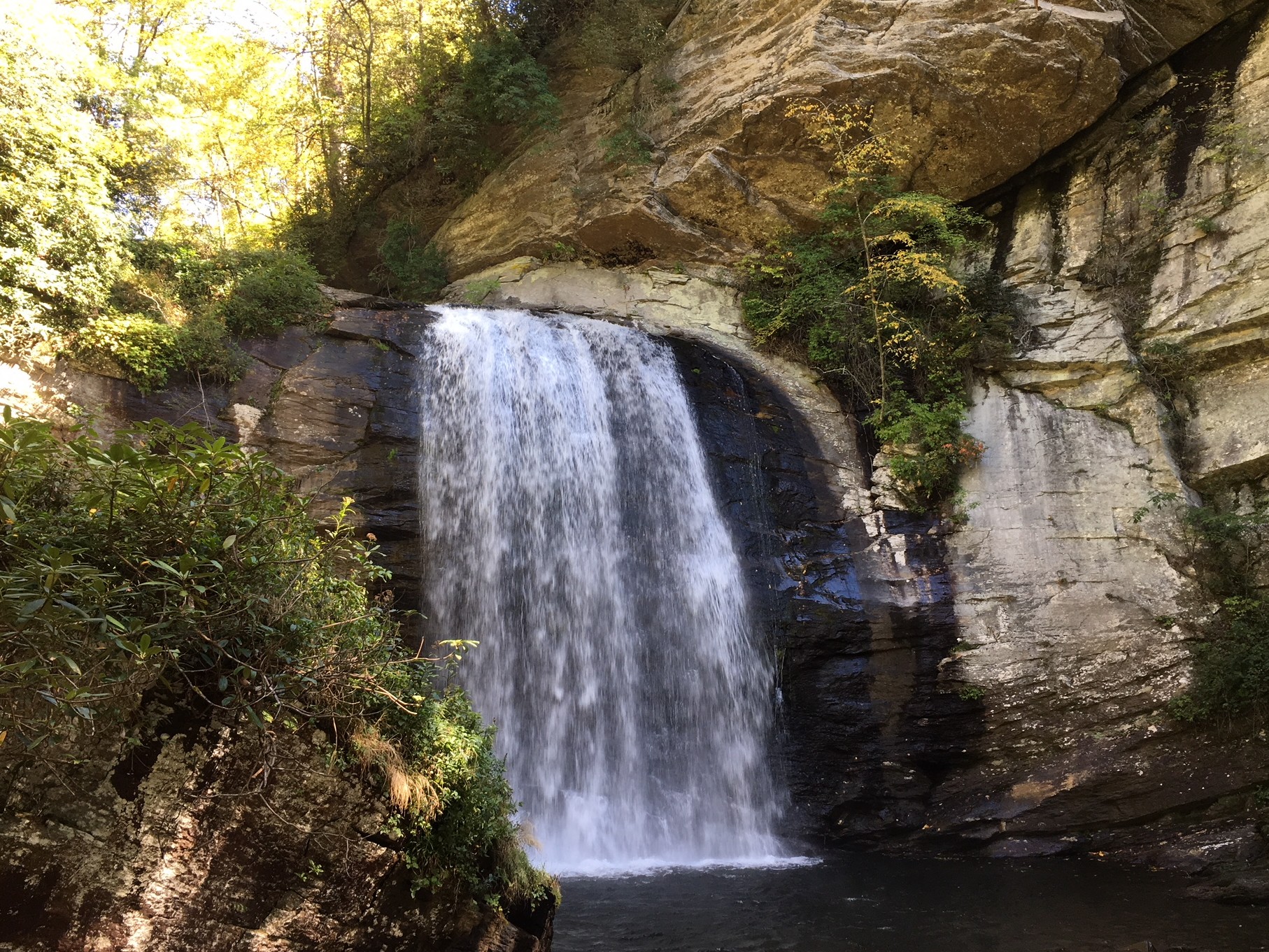 View of Looking Glass Falls
The return trip to Pinecrest is 35 miles or about one hour on 280 North to I-26 West where afternoon cookies will be awaiting your arrival. If your excursion did not include our picnic upgrade, have no fear as the trip back to Asheville takes you past one of the most well known breweries, Sierra Nevada.
This location brews beer for distribution east of the Mississippi River and you can take a self-guided tour. The taproom offers over 20 selections plus an impressive menu of Southern-inspired small plates. The outdoor space here is massive, with an amphitheater, fire pit, bocce courts, and even a trail. Our insider tip: enter through the gift shop to skip the hostess line for table seating. Grab a beer from one of the bartenders then scout a high-top or bar table, which are first come, first serve. There is plenty of open seating in the outdoor area plus a walkup bar with a limited menu but shorter lines.
Book Direct at Our Asheville Bed & Breakfast
Outdoor adventure abounds no matter the season with hikes and views for all. Choose Pinecrest B&B for our comfortably elegant accommodations and superior location in the heart of historic Montford. Innkeepers Dan & Diane are ready to greet you and help make the most of your Blue Ridge Mountain vacation!