Our Asheville bed and breakfast likes to support local farmers and vendors through partnerships like our CSA market share from Full Sun Farm and buying local breakfast sausage from Hickory Nut Gap Meats.
Guests at Pinecrest B&B might like to check out some of the Farmer's Markets we patronize. On Wednesday afternoons, it's the River Arts District (RAD) Farmer's Market located beside pleb Urban Winery if you want a sip too. UNC-Asheville campus located less than one mile from Pinecrest is home to the North Asheville Tailgate Market on Saturday mornings.
Recently we discovered a vendor new to us at RAD: Green Mountain Maple Syrup. Owners Don and Margaret completed their professional careers then transitioned into purveyors of 100% Vermont maple syrup from Echo Hill Farm in Craftsbury, Vermont. They split their time between Mills River NC and Vermont.
There are 3 grades of maple syrup and we had a tasting of all 3 but our personal preference is the robust flavor of dark amber (previously graded B.) The obvious use for all this maple syrup is on our sweet entrees like waffles, sweet potato pancakes, and french toast. It also goes in our homemade yogurt, maple brown sugar cookies, and maple baked pears. Lastly, here is our recipe for housemade granola which is easily made gluten-free and vegan.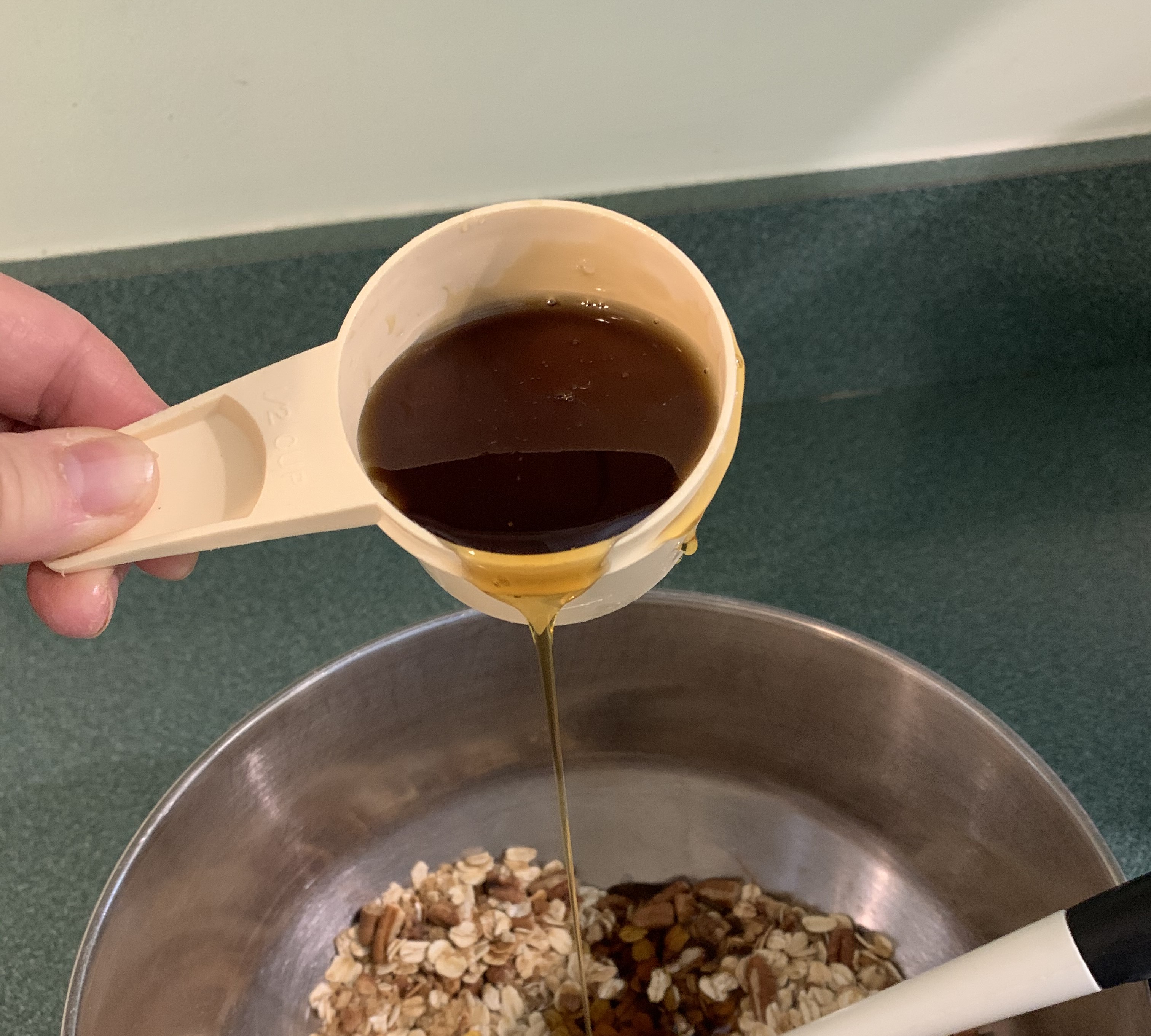 Pecan Pie Granola
Ingredients
2 cups old-fashioned oats, gluten-free if desired
¼ brown sugar
½ c pecan pieces
¾ t cinnamon
⅛ tsp salt
2 T vegetable oil
½ c pure maple syrup
Directions
Preheat the oven to 300 degrees. Line a baking sheet with parchment. Combine the dry ingredients and stir. Add wet ingredients and stir until all the oats are evenly coated. Spread onto the prepared baking sheet. Bake for 30 minutes, stirring every 10 minutes. Cool on the baking sheet then break up the large pieces and store in a gallon freezer bag.
Did You Make It?
We'd love to see and hear from you on social media so follow and tag us @pinecrestbb on Instagram. Be sure to use 100% real maple syrup for the best flavor.
Plan your trip to Asheville and stay at our bed & breakfast where we do the cooking for you. Book Direct on our secure website. We'll see you soon!