With homemade cookies served every day at our Asheville Bed & Breakfast, we are always trying new recipes and this one hits the mark for flavor during fall and winter: White Chocolate Pumpkin Snickerdoodles. This cookie also happens to be egg-free which makes it ideal for guests that might have a food allergy but they are so delicious, you won't even notice.
This recipe is slightly adapted from a favorite blog, Sally's Baking Addiction, which has THE BEST cookie recipes. We always follow the directions exactly the first time we try a recipe but eventually make a few modifications to suit our needs like subbing some butter Crisco and bread flour to keep our cookies from spreading too much.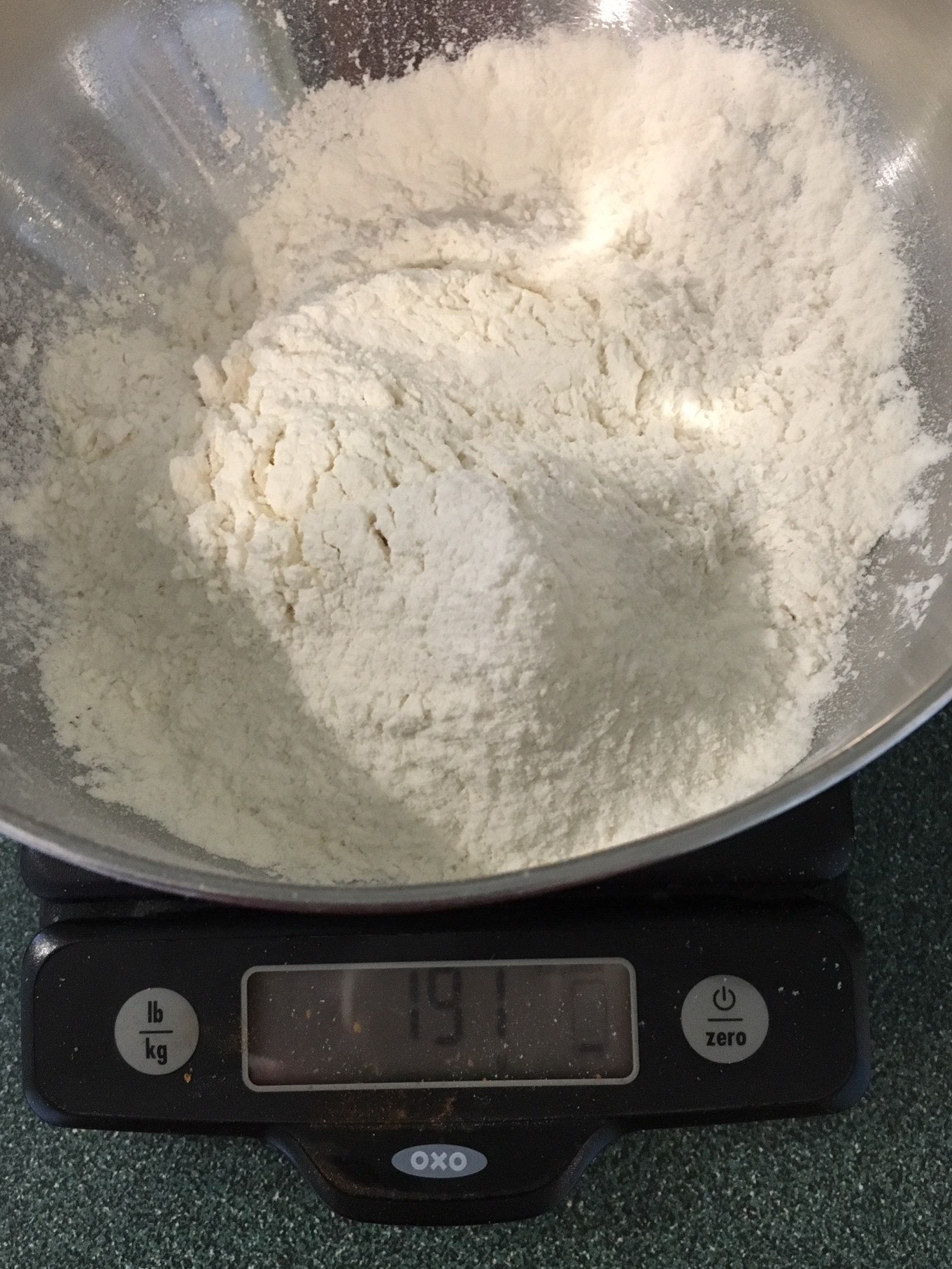 Baking tips for this recipe include:
Get a digital scales and use it for baking (like this Oxo 5 lb scales.) Not only is it more precise for dry ingredients like flour, you save yourself a load of dirty measuring cups to clean up. Use the Nutrition Fact label to figure the math. Simple unit conversion for this Crisco ie 1 T = 12 grams so 4 T = 48 grams. This might even be algebra and your high school math teacher was right!
There will be leftover cinnamon-sugar mix after rolling the dough balls. If you bake a lot, save it in a ziploc bag for the next batch or sprinkle it over hot oatmeal.
Cookies are great straight but if you want that wow factor, once you remove them from the oven, press a few more white chocolate chips onto the tops for that bakery style look (see photo for before and after.)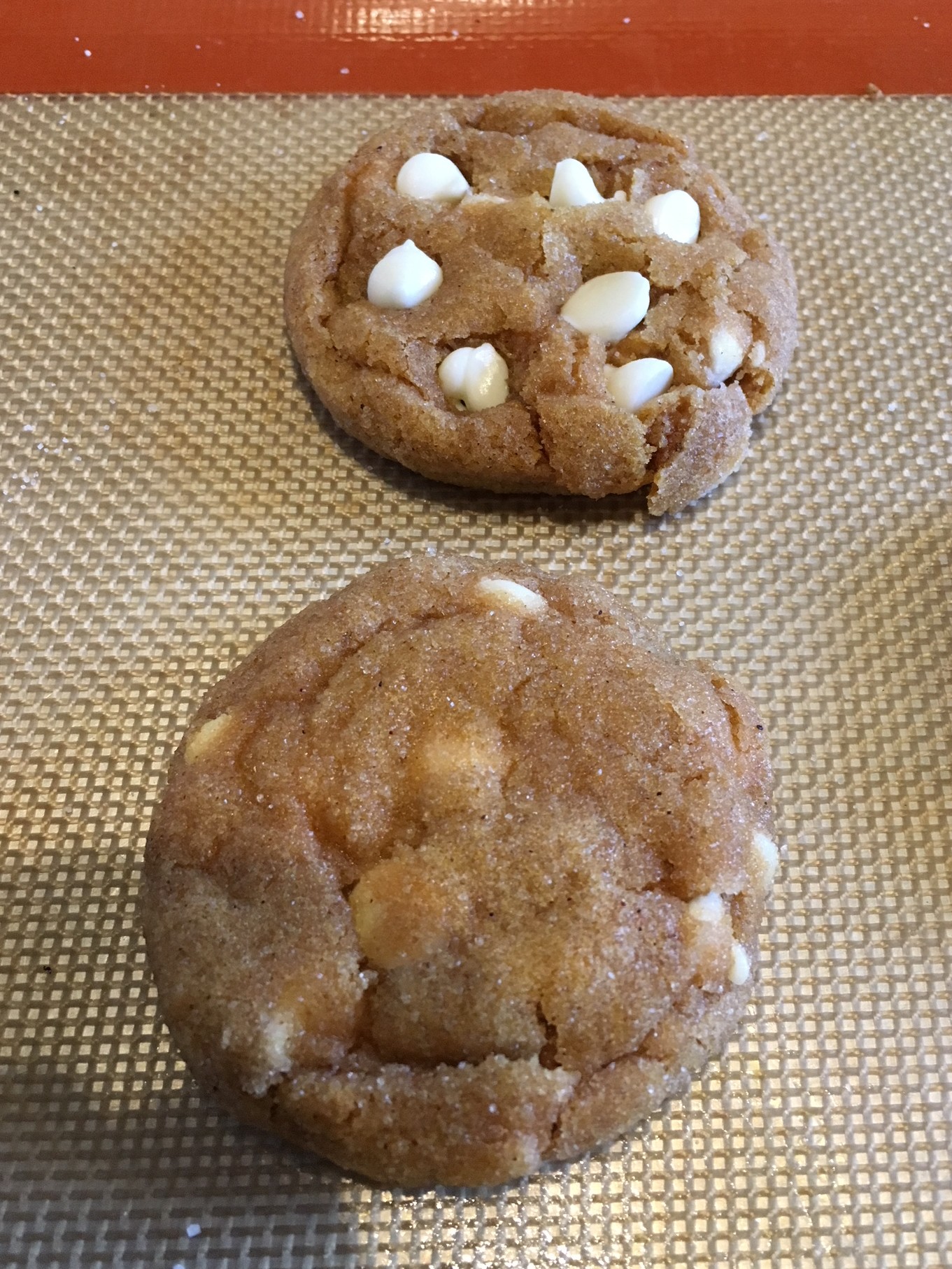 Ingredients:
¼ c unsalted butter, softened
¼ c (48 g) butter crisco
¼ c light brown sugar, packed
1 c white sugar, divided
1 t vanilla extract
6 T (86 g) canned pumpkin puree
¾ c (94 g) all purpose flour
¾ c (94 g) bread flour
¼ t salt
¼ t baking powder
¼ t baking soda
2 t ground cinnamon, divided
1 t pumpkin pie spice
½ c white chocolate chips (plus more for tops)
Directions:
In a large bowl, beat the butter, crisco, brown sugar, and white sugar. Beat on medium for 2 minutes until creamy, scraping down bowl as necessary. Add pumpkin and vanilla and beat on medium-high for 1 minute until homogeneous.
In a medium bowl, combine white flour, bread flour, salt, baking powder, baking soda, 1 ½ t cinnamon, and pumpkin pie spice. Whisk dry ingredients then slowly add to wet ingredients with mixer on low speed. Add white chocolate chips on low. Do not overmix.
Cover bowl with plastic and let chill in refrigerator for at least 2 hours or overnight. Line 2 baking sheets with parchment or silicone mats and preheat oven to 350. Mix remaining 1/2 c sugar with 1/2 t cinnamon. Roll the dough into 18 equal balls then roll in cinnamon-sugar mixture and place on baking sheets.
Bake the cookies for 10 minutes; they will look soft and underbaked. Remove from oven; if cookies have not spread enough, press down with the bottom of a heavy glass cup to flatten. If desired, press a few white chocolate chips onto the tops of the cookies. Allow cookies to cool completely before serving.
We hope you enjoy this recipe now while it's pumpkin spice weather and remember, you can always BOOK NOW at Pinecrest and let us do the baking for you!