Our indulgent homemade breakfast is served daily at 9 am for every guest at Pinecrest Bed & Breakfast in Asheville NC. Our first course is often a seasonal fruit dish paired with a biscuit. Nothing says Southern hospitality quite like our biscuit cinnamon sweet rolls, adapted from the September 2015 issue of Southern Living magazine.
With all due respect to the convenience of popping open a can, the extra time and effort to bake this homemade version is well worth our time. There is also something therapeutic in turning simple ingredients like flour, butter, buttermilk and cinnamon into a divine little biscuit with powdered sugar icing.
There are only slight variations from the original recipe.
My shortening is cold from the refrigerator but not frozen.
Parchment paper works better than wax paper for rolling up the dough.
The only self-rising flour I use for this recipe is White Lily, a soft red winter wheat variety for light as air biscuits.
The recipe says to use a pastry blender or forks to work in butter and shortening; I prefer to slice both the butter and shortening into thin strips then pinch it off into the flour into dime-sized pieces using your thumb and forefinger. You will get a feel for when the butter and shortening are all adequately incorporated into the flour so they create little pockets of fat that burst when baking for a tender flaky crumb.
Biscuit Ingredients
48 g (¼ c) cold shortening, cut into thin slices
¼ c cold butter, cut into thin slices
300 g (2 ½ c) White Lily self-rising flour
1 c whole fat buttermilk
Parchment paper
6 T butter, softened to room temperature
¼ c white sugar
¼ c firmly packed brown sugar
½ t cinnamon
Creamy Glaze (recipe follows)
Preheat oven to 450 degrees. Pinch shortening and butter into dime-sized pieces, cutting it into the flour until all is coated and incorporated. Freeze for 10 minutes.
Make a well in center of flour mixture; add buttermilk and stir with a spatula just until dough comes together.
Turn dough onto a heavily floured surface, and knead 8 to 10 times. Transfer dough to a heavily floured piece of parchment paper, about 18" long. Roll dough into a 14 x 10-inch rectangle.
Spread dough gently with very soft butter, leaving a ½-inch border. Stir together sugars and cinnamon; sprinkle over butter. Lift and tilt parchment paper, and roll dough up, jelly-roll fashion, starting at 1 long side and using parchment as a guide. Cut dough into 1-inch thick slices. Place rolls in a lightly greased 9-inch round pan.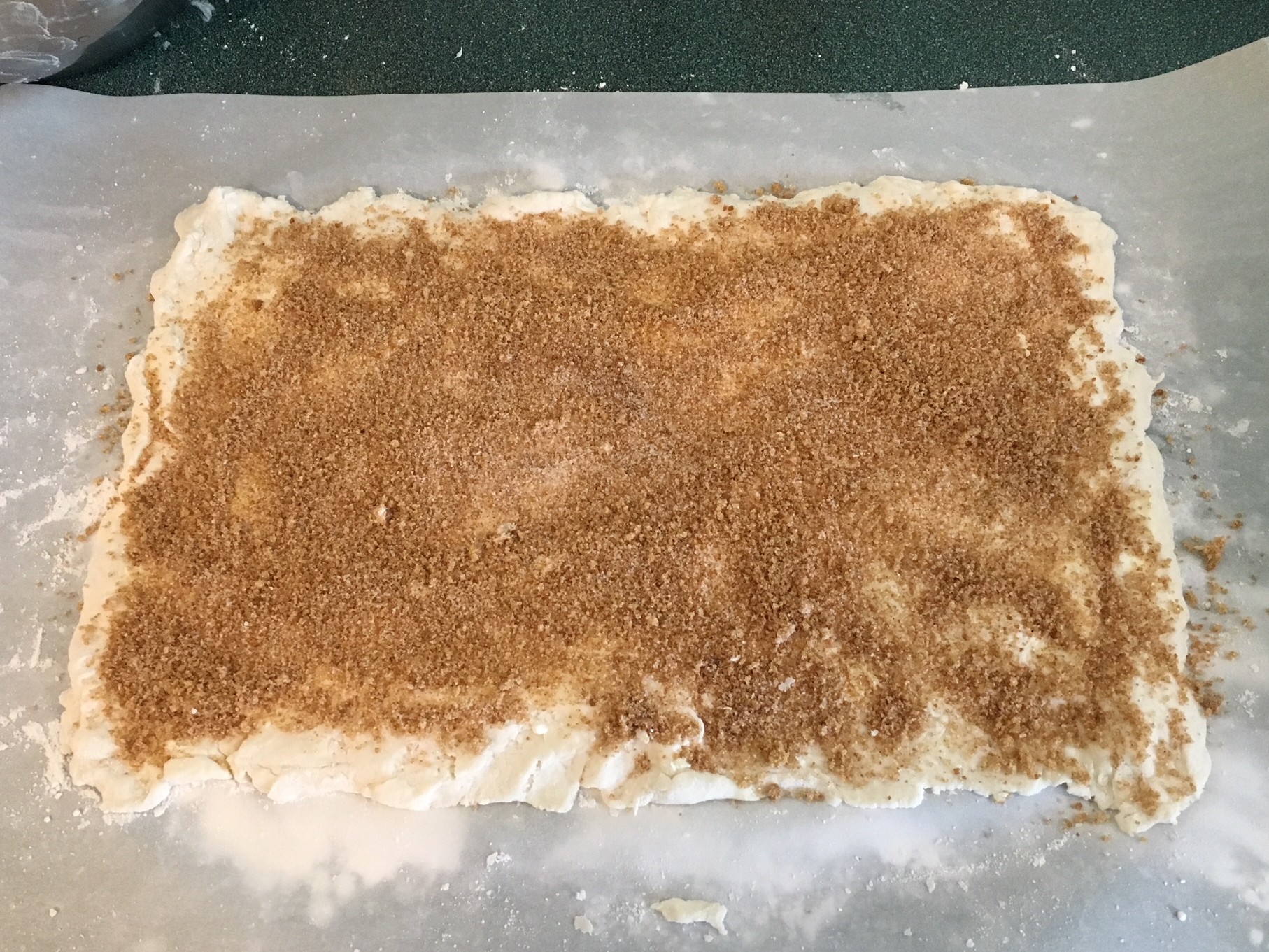 Bake at 450 degrees for 13 to 15 minutes or until rolls are golden brown. Cool in pan on a wire rack until completely cool. Rolls can be prepared until this step the day before serving. Cover with foil and reheat in a 350-degree oven for 8-10 minutes or until warmed through.
Meanwhile, prepare Creamy Glaze and spread over rolls.
Creamy Glaze
Whisk together 1 c powdered sugar, ½ t vanilla extract, and 3 T heavy cream until smooth and creamy. Use immediately.
Let us know if you try to make this biscuit at home and tag us on Instagram at #pinecrestbb.
Book Your Stay at our Asheville B&B
Don't want to bother with the mess of flour? Reserve one of the five guest rooms at Pinecrest B&B and let us do the baking for you. Our convenient location in Montford near restaurants and bars is the perfect place for all your Asheville adventures. Breakfast is served daily at 9 am and we take requests!