Valentine's Day is in the books and we would like to share our Asheville Romance experience. We took a short walk from Pinecrest B&B to downtown and hit some wonderful spots from which to make memories.
Our first stop was Battery Park Book Exchange & Champagne Bar, located in the fabulous Grove Arcade. Our champagne cocktail selections were The Great Gatsby and Fahrenheit 451. Not only do they have champagne, wine, and a full coffee bar, the shop is chock full of used books behind every nook and cranny. Be certain to head upstairs to see the wonderful selections this place has to offer.

No Asheville Romance would be complete without stealing a few kisses so we headed over to the Asheville Bee Charmer to pick up their lipbalm. This unique addition to the downtown area is a one stop shop for all things bee, including a honey taste testing bar. One of our favorite products offered is Smokin' Hot Honey. It's good, especially on the biscuits at Pinecrest B&B! Armed with kissable lips, we continued our journey to Haywood Street for more treasures.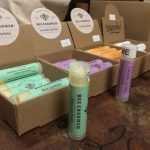 Just around the corner is the award winning Chocolate Fetish because no Valentine's Day would be complete without CHOCOLATE! They have an extensive selection of handmade truffles and other confectionery treats and we choose champagne truffles and peanut butter dipped in dark chocolate. Keep in mind that a box of truffles can be added to your stay at our bed & breakfast; we will happily shop for you so you can surprise your sweetie.
Not willing to simply eat and drink our way through this holiday outing, we crossed the street to the Woolworth Walk, art gallery and craft emporium. This Woolworth-store-now-gallery features diverse works from over 175 artists on two floors. With an extensive selection at many price points, there really is something for everyone. They have retained the original lunch counter so it's a nostalgic spot to catch a bite to eat as well.
Our appetite for chocolate knows no bounds so we headed for the South Slope to hit up one of the many local breweries. Looking for something off the beaten path, we choose Wicked Weed Funkatorium, home to their sour and funky beer taproom. The beer here takes on another dimension as most selections are aged 8-12 months in barrels. Our brew master offered up their brews with chocolate notes including Chocolate Covered Black Angel, Barrel Aged Milk & Cookies, and Hop Cocoa (made with chocolate from another hometown favorite, French Broad Chocolate.) These are far from ordinary beers, meant to be sipped, swirled, and savored. But by now we had worked up a fierce appetite and headed to another South Slope favorite for vittles.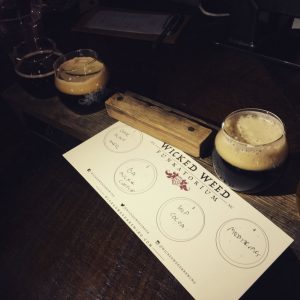 Nothing says love like a little pig so next stop was Buxton Hall Barbecue, an Eastern-Carolina style bbq joint where tradition tastes good. The brainchild of two James Beard nominees, the accolades keep coming as both Bon Appetit and Southern Living named Buxton Hall to their Best New Restaurants of 2016. We love the concept here, with an open kitchen and whole hog barbecue. And as if that was not good enough, Buxton Hall is home to Bon Appetit's Fried Chicken Sandwich of the Year: chicken is first smoked, then dipped in buttermilk, deep-fried, and topped with American cheese, pimento cheese, white barbecue sauce, bread-and-butter pickles and served on a toasted bun. It's a sloppy mess sandwich miracle! We happen to go crazy for the collards and the green beans too. Sadly we did not save room for the dessert—maybe next time?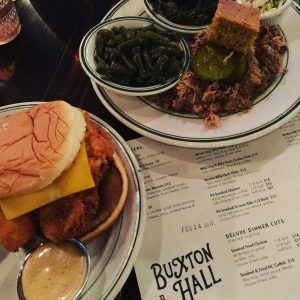 Just one last stop on our Asheville Romance tour was to frequent one of the many fine coffee establishments found in downtown and High Five Coffee on Rankin Ave did not disappoint. Serving up Counter Culture Coffees, the barista expertly prepared our latte and cappuccino with the requisite hearts for Valentine's Day, though we like hearts each and every day.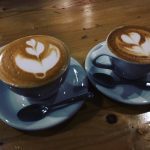 Holding hands we strolled back to Pinecrest, in love with each other and this lovely city we get to call home now. How blessed to be loving what we do each day and getting to share Pinecrest B&B with our guests. This really is a great city for romance! One last thing to make our day complete was to hang our newly acquired art by Cathy Nichols, who creates paintings of love, joy, and everyday magic. "A House Ruled by Love" is perfectly placed in our kitchen, a constant reminder of our Asheville Romance tour but also to be kind, always.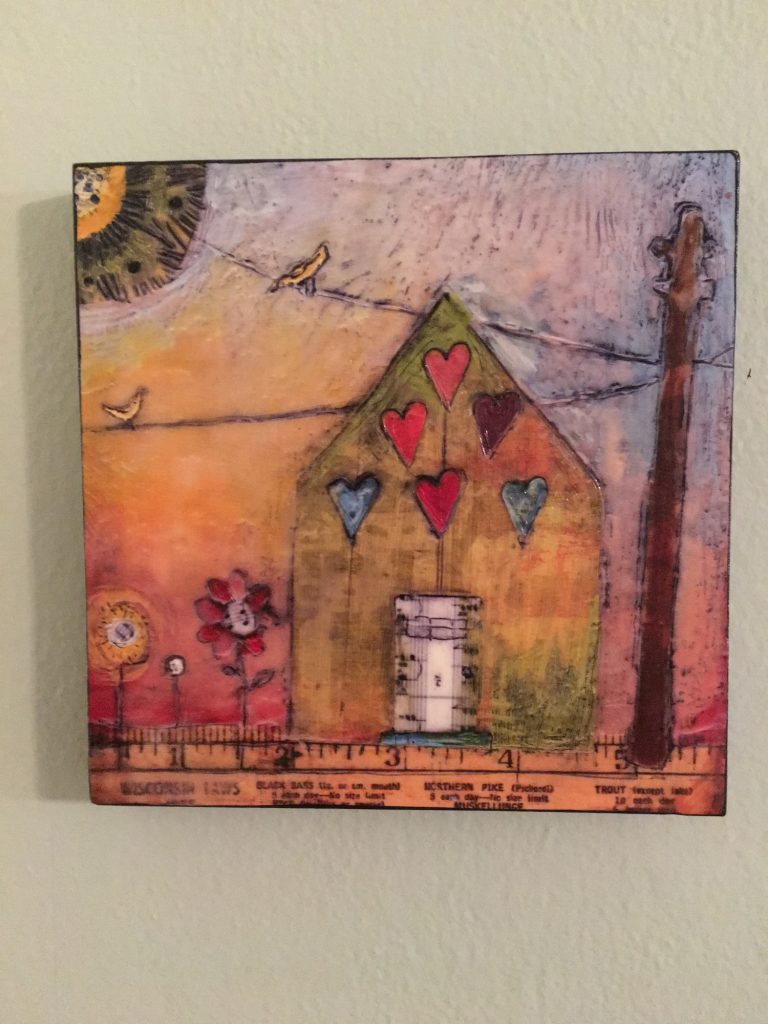 Your Place for Romance in Asheville
Our superb proximity to vibrant downtown makes Pinecrest Bed & Breakfast the perfect place for your next romantic getaway. Come be pampered at our comfortably elegant inn with spacious rooms, luxurious linens, and spa robes. Delight in our afternoon treats, beverage center, and indulgent homemade breakfast. We are waiting for you to BOOK NOW.