Let's face it, aren't we all a little enamored with the Appalachian Trail? This romantic notion of walking from Georgia to Maine holds some mystical power over us all. And if you are lucky enough to live nearby the trail in Asheville, you can put down the Jon Krakauer book, lace up your boots, and give it a whirl, if only for a day. We locked the door behind us at Pinecrest B&B and headed out for an adventure.
A good place to start would be 36 miles north of Asheville in Hot Springs, NC where the trail runs right through the center of town. We choose the 1.6 mile loop Lover's Leap Hike with directions quickly handwritten from the our favorite blog, Romantic Asheville. Even us novices knew there would be no GPS where we were headed.
It would seem the day was off to a good start with the marker in the sidewalk. We stopped in Bluff Mountain Outfitters which would be a godsend for supplies for those hearty souls who are thru-hikers on the Appalachian Trail. They have earned our utmost respect. Perhaps the hiking gene skips a generation as my parents hike and our daughter has even backpacked in Alaska but our main exercise these days is carrying laundry up and down two flights of steps. Onward and upward!
Over the bridge, down some steps, a street led us to a well worn trail right beside the French Broad River. There is something mesmerizing about the sound of water and particularly the rush over any waterfall, albeit so small. With the intensity of the heat, a trip down the river over Surprise Falls might have been a better choice on this hot summer day? Maybe our next outing will be at French Broad Rafting.
Surprise Falls on the French Broad River
Everyone knows the white blaze of the Appalachian Trail keeps hikers on the right path but we somehow veered off quite quickly to the left. Looking for a series of switchbacks, we attempted a near vertical climb, using ropes someone had secured to traverse this particularly challenging terrain.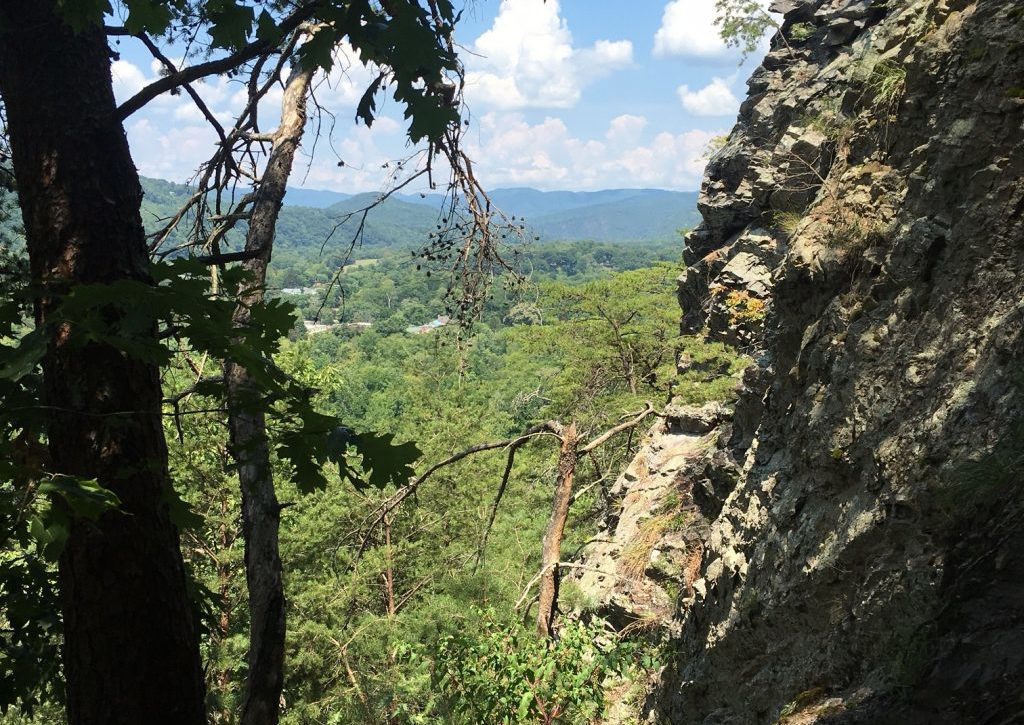 After 50 feet straight up, we abandoned this spur and retraced our steps, nearly rappelling back down and headed along the river again, this time in the right direction! And soon there were the familiar white blazes every 100 feet, bringing comfort to the uninitiated.
We continued along the river path awhile then came upon the promised switchbacks that started our ascent to 3 rock outcroppings. The forest was still and quiet, save for our footfalls but we knew others had traversed this same path by the "cairns"
Cairns
they left behind, which brings comfort to some but considered a scourge by others. It was nice to be reminded that there are places, not so far away if we seek them, where we can find quiet, peace and solace from the hustle and bustle of everyday life. No cell phones, no GPS, no email but be sure to take plenty of water as hiking the Appalachian Trail can leave you winded and thirsty.
The hike up was certainly worth it for the peak-a-boo views of the river below and ridges towering above. We were happy to stop and rest at the top before taking the Silvermine Loop Trail back down the mountain.
These mountains call to us to climb them, some higher than others but all of us have the desire to search for views such as these. All that is left to be said is "breathtaking."