In the brief time that we have been innkeepers here in Asheville, we've had the opportunity to frequent any number of local breweries and to experience the city's reputation as the "Denver of the East." With over 20 breweries in Buncombe County alone, it's hard to even know where to start. One of the great tools we used to navigate was the Asheville Ale Trail, available in several formats. Booklets can be found around town in kiosks or breweries. Their website can be found here and for those beer connoisseurs that need to know the closest brewery right around the corner, there's an app for smartphones.
The Asheville Ale Trail is one of the Best Things to Do in Asheville. Want more ideas? Check our our Things to Do in Asheville section.
Here's the Ale Trail we took:
Naturally, we started at the brewery closest to our inn, a mere mile away but still far enough to work up a thirst! Open and inviting, we chose a seat at the bar and paired our beer selection with a choice from their full menu. Since this brewery has restaurant service too, this is a great place to have lunch or dinner.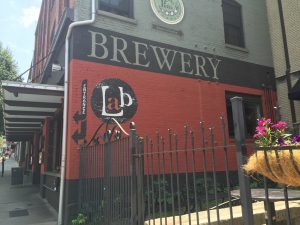 Although Green Man has updated and upgraded its presence on the corner of Buxton and Church streets, if you're more comfortable having a beer in someone's garage, head to the back to 27 Buxton Ave where they do beer and only beer. The atmosphere is unpretentious as tables are located mere feet away from the tanks. It doesn't get much closer than this!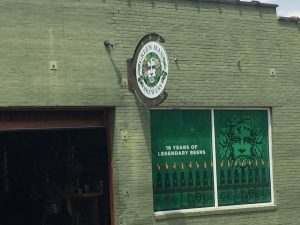 With multiple locations in the city, our favorite is on Coxe Ave. The ever helpful wait staff are quick to bring a sample to the curious consumer, which led us to discover the Ninja Latte, which is a delicious combination of the best worlds of both coffee and beer! Is there a more perfect food to pair with beer than pizza? Our favorite was the Funky Chicken, a bbq sauce based pizza with chicken, cheese and bacon. And before you knock it, we dare you to try the Sweet Pea's Spinach Burger, guaranteed to be the best no meat "burger" known to man!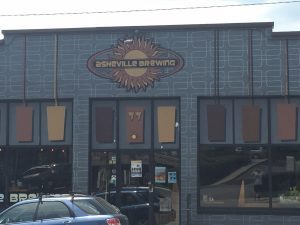 Don't let the name confuse you! Named after the Hindu Goddess of Bees, this newcomer to the scene brings an eclectic mix of food and beer to the Asheville scene. From small plates to entrees, the food was spot on. We highly recommend a flight to get the best sample of all the beers they have to offer. In nice weather, head to the back patio where they often offer live music too.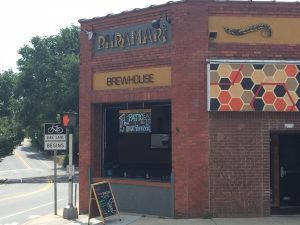 Our last stop on the South Slope tour was Burial Beer Co. Off the beaten path and seemingly a favorite of locals, this was the place recommended by multiple bartenders, so you know it's good! This place is best visited on a sunny day because there is no better spot to enjoy a flight than on one of their several patio spaces. All we can say is we will be back!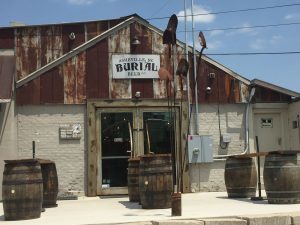 Worth the drive to the River Arts District, don't miss New Belgium's brand new brewery that will eventually provide this brand's beer distributed east of the Mississippi. To get a taste of your favorites on tap, head to their Liquid Center. This place was hopping even on a Monday afternoon, so anticipate large crowds if you plan to head there on the weekend. Perched on the banks of the French Broad River, their patio had great views to have a sip and you can even bring your dog along. If you get hungry, a different food truck is on site each day. We were lucky to score with Appalachian Chic and their not to be missed tater tots. Trust us, they're not Ore Ida! We are looking forward to the day tours of the facility are also offered. Uber is convenient, safe, and worth it so keep it as an option if everyone in your group wants to taste a beer, cause after all, it is Beer Week!