Sometimes we travel to soak up all the adventures of an area and Asheville hosts a plethora of such experiences but sometimes the destination plays a supporting role. This journey is about connection, respite, and being together. We have crafted a getaway package for you and your bestie, whoever that may be, to come destress and get away from it all.
Pinecrest Bed & Breakfast will set the tone for your trip. This 1905 English Tudor is listed on the National Register of Historic Places. Located in Montford, Pinecrest is situated on 1.3 acres, an oasis in a quiet residential neighborhood. Perfect accommodations await in our Cowley Room with antique twin beds and comfortable seating area. The bathroom boasts a clawfoot tub for soaking and ample shelves to hold all your essentials. Truly it's all the comforts of home without any of the responsibilities.
Waiting your arrival will be a bottle of wine paired with a charcuterie plate curated for red, white or rose. Sip and unwind from your travels and catch up with each other. Just around the corner from Pinecrest is our everyone's favorite restaurant, Nine Mile, serving up Caribbean inspired cuisine, food that is worth the wait! Enjoy the neighborhood architecture on your walk home. Waiting for the rest of your evening is house-made kettle corn and Chromcast to catch up on all your favorite episodes. Laugh the night away!
The next morning starts with an 8 am private yoga session in our backyard with Sophie from Down Dog Yoga Studio & Dog Bar, Asheville's newest yoga hot spot complete with yoga classes, beer taps, and a dog park! Thoroughly awake, a fresh hot homemade breakfast is served, socially distanced, at 9 am to all guests of Pinecrest.
While the day is yours, we have several hikes to recommend as you get out to explore the beauty of the Blue Ridge mountains. Refreshed on clear, crisp, mountain air, return to the bed & breakfast in late afternoon for side by side massages, either in-room or outdoors on the backyard terrace. A nap or soak in your room's claw foot tub is the perfect follow up to your massage.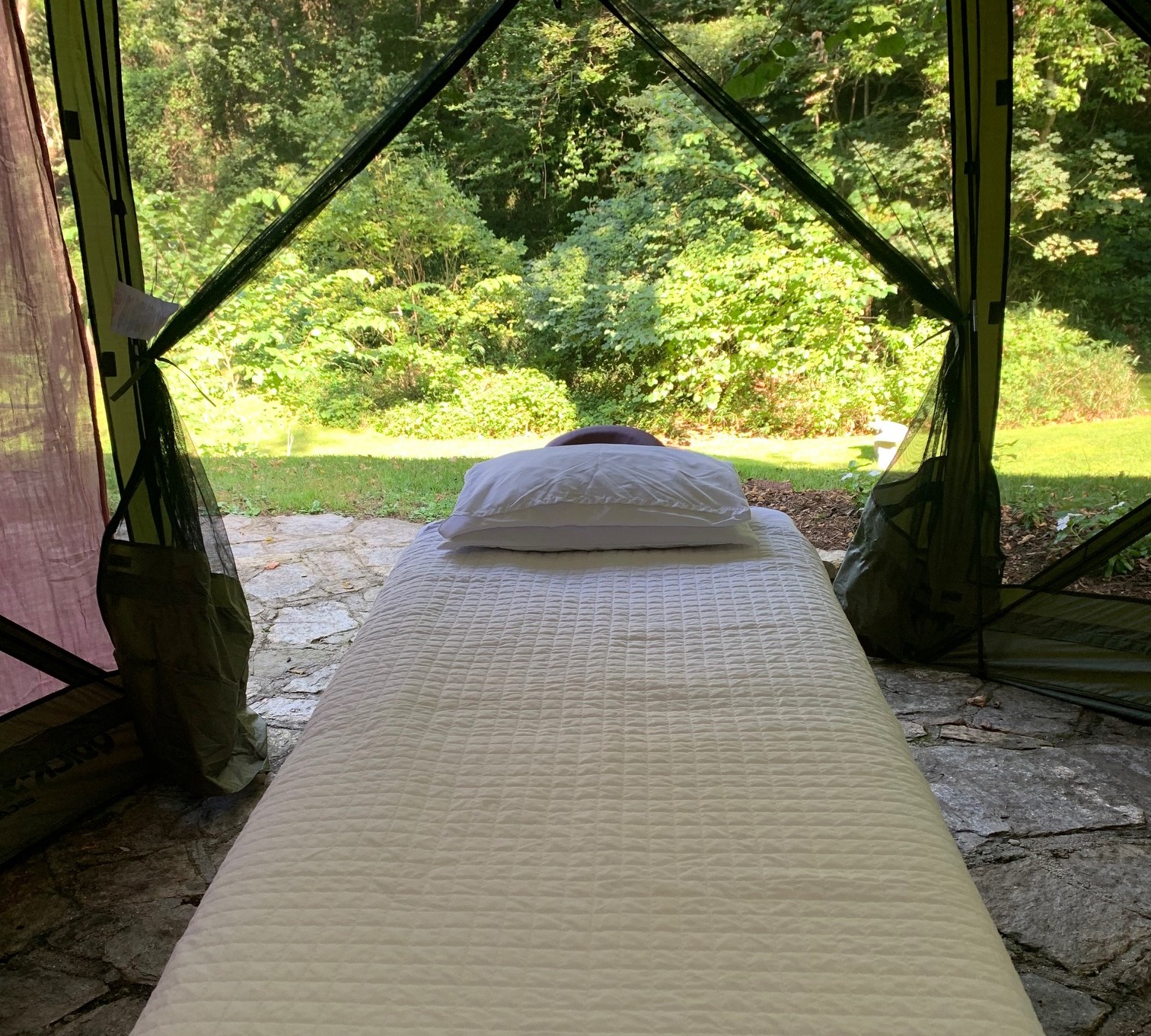 Our Al Fresco Dining service has you set for dinner. All that's necessary is to choose from the menu at our neighborhood Italian restaurant, Chiesa. Order and pay for your food and we'll deliver your dinner to our terrace. We'll ditch the carryout box so you eat with real silverware off china. Chiesa also has a retail wine list and we have corkscrews and wine glasses. We even have s'mores kits for roasting marshmallows on our small fire stove after dinner. Your own private backyard campout!
Fully rested and recharged, stay in your room in our signature bathrobes while we deliver coffee and breakfast service to your room for a private morning to yourselves. No need to hurry as you have extended check out until 1 pm. Linger a little longer, sharing a few more precious hours together before heading home.
Everything is included in the package rate (except for food and wine at Chiesa.) You get all the amenities at Pinecrest with breakfast each morning, fresh baked cookies, and beverage center on our sun porch. Book our "2 Girls Reconnection" package directly at our secure website or phone the inn at 828.281.4275.